Happy Sunday, you guys! Today I'm so excited because I'm sharing with you the most magical, wonderfully talented woman behind the MOST darling dolls in, I'm quite sure, the entire world. No, really. That is Helen Wood of Isabella's Secret Attic.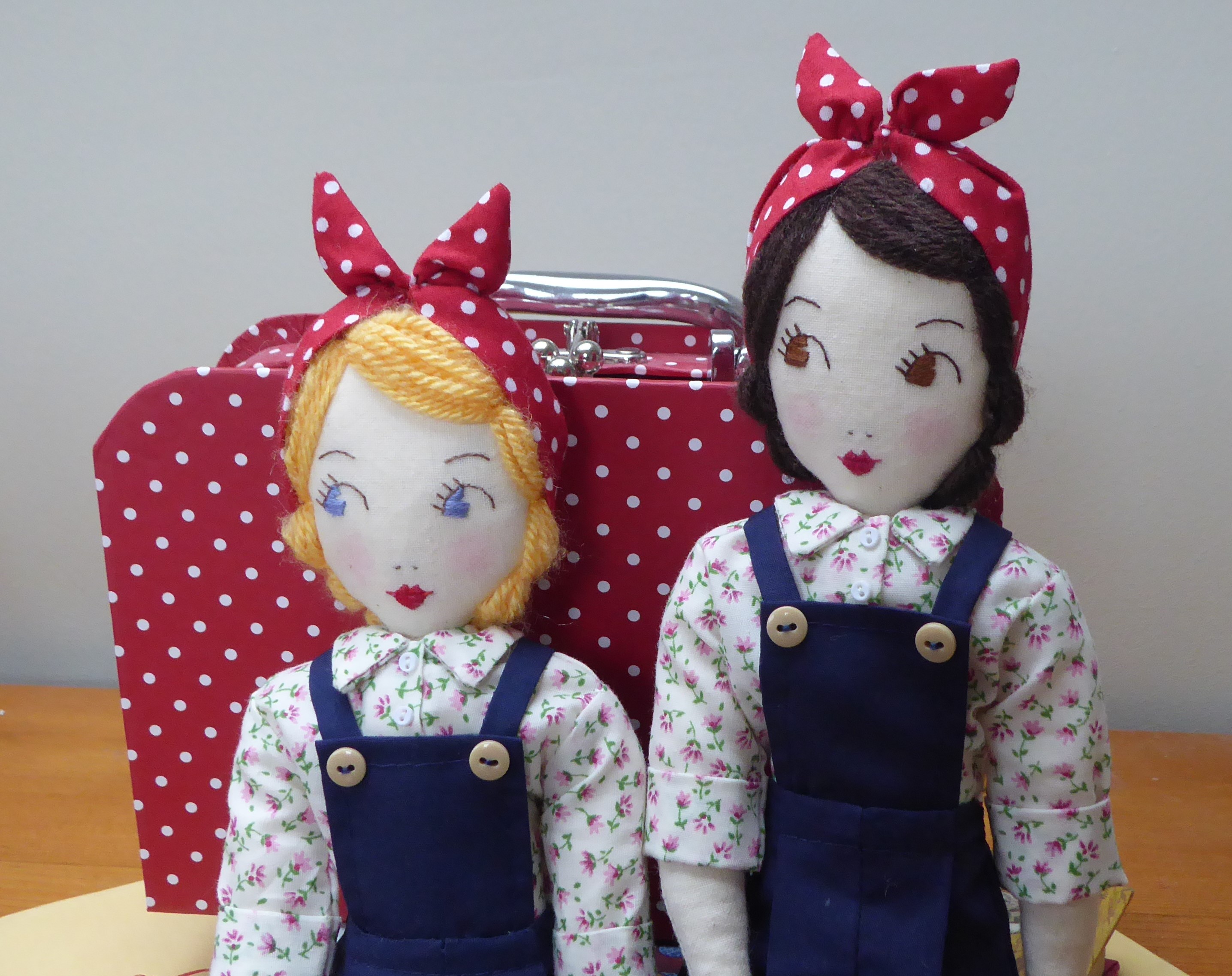 I always love to start out these artist journey conversations by asking about childhood. So, love, what were you like? Were dolls a big part of your playtime? Was there any indication you may go on to create dolls?
My childhood was idyllic, growing up in a creative family I was encouraged to draw, paint, knit, sew, make music and write poetry and stories. My sister and I set up 'museums', made model villages for our dolls to live in and ran a weather station from the Wendy House in the back garden. Together we created most of the items from the 'Ladybird Book of Toys and Games to Make'. Weekends were spent adventuring in the steps of Robin Hood and his merry men in Sherwood Forest or rock-scrambling in the Derbyshire hills.
I have many treasured dolls from my childhood, some wearing the clothes I made for them including an 'action man' still modelling a very unflattering pair of pink sparkling underpants!
My Grandparents' house held particular magic in the form of my Father's 1930's toy box and a dressing up box full of my Grannie's 1930's and 1940's dresses…my favourite was a green crepe-de-chine affair and I revelled in wearing it whilst dancing to my Grandad's 1930's Bakelite records played on his treasured 'His Master's Voice' gramophone…the last of the Great British eccentrics!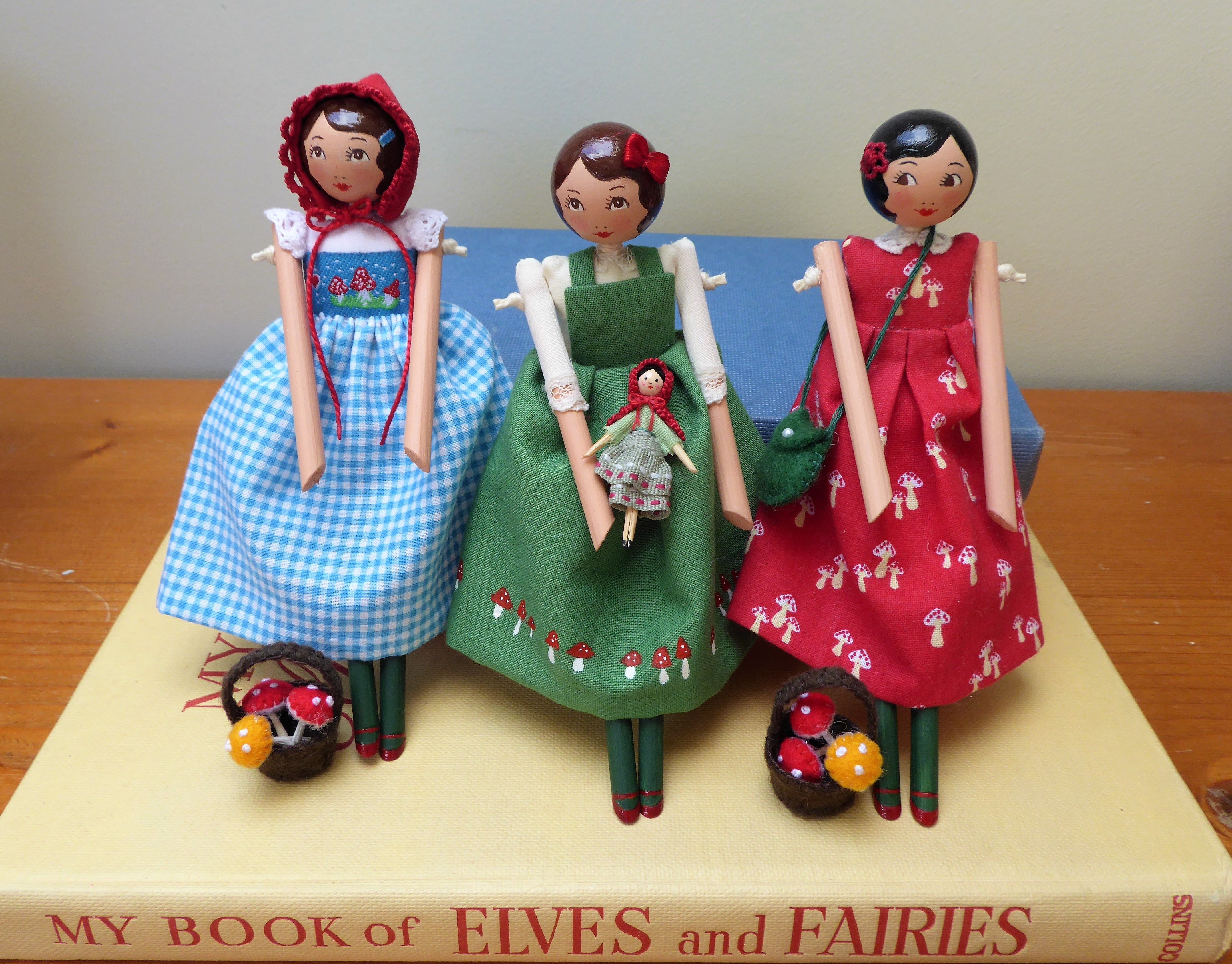 Wow.. I think you have just described my dream world. Your memories sound like real treasure. Now, in terms of your dolls, when did you start making them? Where does Isabella's Secret Attic come from?
Art continued to be a central part of my life; I went on to study Creative Textiles and later Botanical Illustration at degree level but my interest in the 30's and 40's period was re-kindled on the discovery of some beautiful old family photographs from this era. I was inspired to paint a series of canvases based on what I had found and this ultimately gave me the idea of creating my vintage style art dolls three years ago. Quite a lot of research went into the paintings and this helped me in designing 'vintage' faces and clothing for the dolls and then, with the help of my talented friend Paul (who assists with drilling which is somehow beyond my capabilities!) experimented with the construction of a wooden doll. The cloth dolls and tiny wooden dolls followed.
I wanted to keep the name of my doll collection separate from my picture signing name and so came up with 'Isabella's Secret Attic' in a rather complicated way…my son studied the Pre-Raphaelite movement for 'A' level art which sparked my interest in their work, particularly in their painting techniques but also in the close links with literature, hence the name 'Isabella', a reference to their paintings of Keats' poem 'Isabella'. 'Secret' relates to my quirky little house which is in quite a hidden location up a secret pathway, once referred to by the postman as 'the pathway to Narnia'! Finally, 'Attic' refers to my attic studio.
Oh, my. If possible, I am even more in love now with your line... <3 Okay, I have to ask, do you have a favourite doll? If so, what does she mean to you?
I have sentimental feelings for my first two wooden dolls, Mary and Patsy, as I named them after my Grandma and Mum; they are dressed in spotted 1920's style beach pyjamas and I love the idea of floating around the seaside wearing a pair of these. I kept one of them as an 'example' but the real motive was that I couldn't bear to part with her. She sits in a little striped deckchair bought for me by a special friend, cradling a black pipe cleaner dog. My Vintage Circus Girl cloth doll (shown below) has to be a favourite too as I am intrigued by the images of beautiful circus performers from the 20's and 30's in their stunning, if somewhat quirky costumes.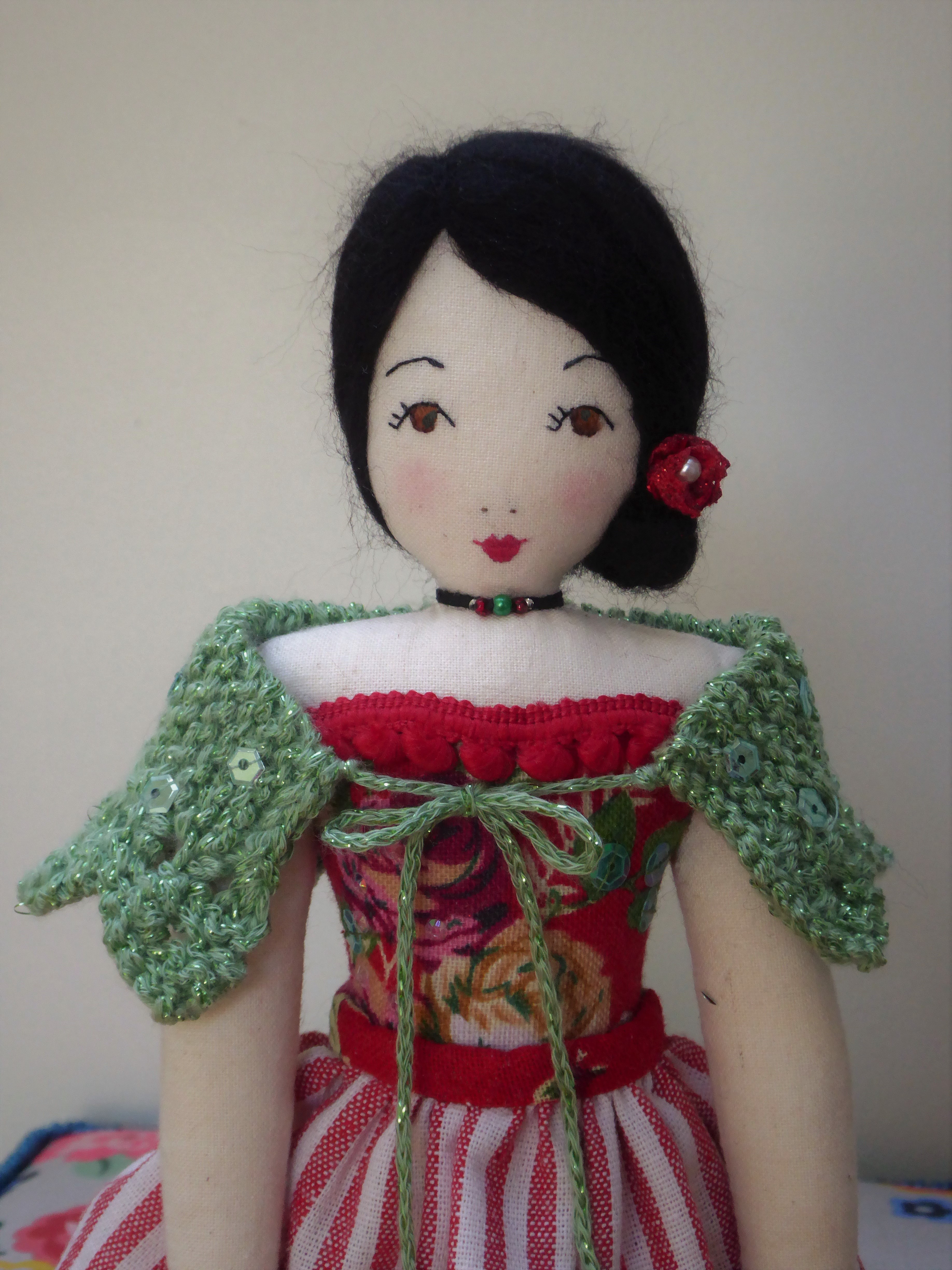 Oh, they are so, so beautiful. What feeling or emotion do you wish to imbibe those who buy your dolls with?
I hope my dolls make people smile and bring joy, hopefully they will evoke a feeling of nostalgia and will conjure up the magical memories of childhood. On a more serious note it would be good if through the 'Land Girl' dolls people became more aware of the role these strong (and often undervalued) female characters played. A beautiful bronze statue has recently been erected in my home city of Sheffield, Yorkshire, to acknowledge the important role female munitions workers known as 'Women of Steel' played during WW1 and WW2 and who for years have been overlooked. To celebrate their achievements, I made a tiny 'Woman of Steel' for a friend whose mother had been conscripted to work in the munitions factories during the late 1930's at the age of eighteen.
THAT is something I must see. I love that so much. Incredible.
I'm curious, what stories, myths, and/or folk tales inspire the dolls? Or just you as an artist? Do you read/watch films/go to the theatre? What's your go to when it comes to consuming art and getting inspired?
I find creative inspiration in many places, in stories and poetry, art exhibitions, plays, music and the natural world, particularly in woodland where I feel 'at one with nature'. Sometimes inspiration can simply come from a found object or a beautiful piece of fabric or lace. I love books and have so many that I can almost hear my bookshelves groaning under the strain! My childhood books often appear as props in my doll photography and books such as The Borrowers, Alice in Wonderland, The Hickboo and Tales of Toyland have certainly influenced my doll making.
As an adult I have always found Thomas Hardy's work inspirational with his beautiful descriptions of the Dorset landscape and his wonderful characterisation, not to mention the often heart-rending storylines. Sir Walter Scott's 'Ivanhoe' is a favourite; although written in a slightly dated language, once beyond this the story has everything…romance, intrigue, knights and crusaders and history, all set in an area well known to myself. Another book which inspires me greatly is 'The River Midnight' by Lillian Nattel, a beautifully written story of a Jewish community living in a shtetl in Poland in the late 1800's. The story explores the intriguing relationships between the villagers, particularly the women characters and how these relationships are inextricably interwoven with their faith and customs. The play which has had a profound effect on me is 'Journey's End', written by R.C Sherriff, it is so very thought provoking and my favourite poem is 'He Wishes for the Cloths of Heaven' by W.B Yeats; I have returned to this poem many times and often find myself contemplating Yeats' imagery surrounding 'the heavens' embroidered cloths'. It was such a treat to listen to a friend's reading of this exquisite poem at my birthday party a few years ago.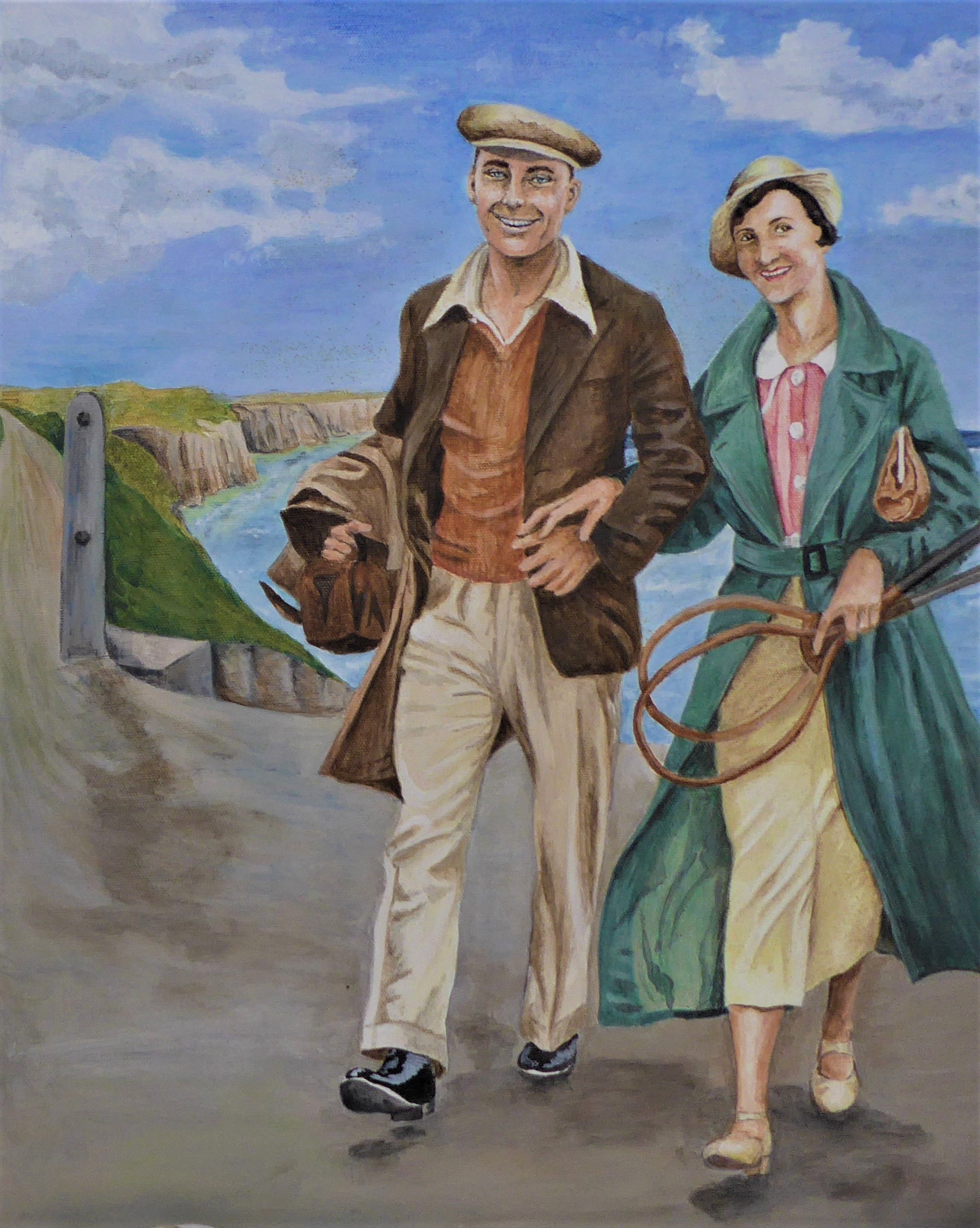 One of the paintings which inspired Helen to start creating vintage style dolls.
Can you tell me about your creative routines?
I have to admit that my creative routine is rather haphazard. My studio is in a very cosy attic which my daughter-in-law has described as a 'Victorian bed-sitting room', it is a wonderfully light space (ideal for painting!) with a large antique pine work table and a metal day bed for relaxing and watching the clouds drift by. Living on a very steep hill means that being in the attic gives the feeling of being on top of the world. I surround myself with beautiful things such as an art-deco fairy lamp and favourite pictures and books and I listen to stories and old comedy shows on the radio as I work. I tend to work whenever I have the opportunity, sometimes throughout the day, sometimes in the evening and I tend to create quite a mess which requires a big tidy up at the end of each project.
Whatever type of doll I am creating I always begin with the face as for me this is the key to creating a unique little personality, once I am happy with that then the rest tends to magically fall into place. Even though I usually start with a plan for the dolls they tend to take on a life of their own. I have many, many ideas for creative projects which are recorded in my 'big book of ideas' but unfortunately there are never enough hours in the day to put them all into practice!
Tell me about it. How do you suggest someone embrace embrace their inner child if they feel disconnected from that playful, creative side of themselves?
I believe that everyone has an inner child waiting to make an appearance and for anyone struggling to connect with that playful, creative side of themselves, here are a few ideas that might be useful:
Be playful…never miss an opportunity to splash through puddles, jump over waves, leap across stepping stones, follow the secret path in the woods or don the dressing up clothes when visiting stately homes and castles. I have had so much fun doing all of these things and I'm sure you will too!

Try new craft without worrying too much about the end product. When I was teaching primary school children the emphasis during art sessions was to encourage the children to experiment with and get to know the materials before attempting a finished project and I believe this to be a good thing for adults to do too. I would highly recommend, for example, having a play around with clay as it is such a joy to work with, whatever the end results. I have occasionally met individuals in art classes who haven't attempted any artwork since their school days and so have felt very inhibited but once gaining the courage to experiment with new materials have gone on to create some amazing pieces.

Try playing games; my family often play games during get togethers and inhibitions are soon lost as everyone falls into hysterics whilst participating in 'The Humming Game' or our childhood game of 'Tell Me' (which encourages such unashamed cheating!)…I can guarantee that the inner child will soon make an appearance.

Re-connect with some favourite childhood stories and poems, it is surprising how doing this can re-kindle lost feelings of joy and wonder. I find that 'Now we are Six' and 'The Jumblies' are just as delightful as they ever were, to name but two.
Pure. Gold. Thank you for those. Now, what makes a good life for you?
For me a good life would be one where I…
Continue to enjoy, explore and respect the natural world whether it be in the wildlife garden I am creating or woodland, the countryside or the local park.

Explore a range of creative pursuits…there are so many new ideas to try out!

Spend time with family and friends. I am blessed with a very creative and supportive family, each having wonderful talents whether in painting, acting, singing, photography, model making or music. They are such a joy to me and my life is enriched by each one of them.

Continue on my journey of faith, respecting the beliefs of others and treating those I meet with love and kindness.

Continue to delight in literature, art and music and try very hard to improve my piano playing!

Cultivate my sense of humour, I can't agree more with the saying, 'Wasted is the day in which we have not laughed'.

Enjoy journeying around Britain, visiting favourite places such as the breathtakingly beautiful Kyle of Tongue in northern Scotland and the charming county of Dorset and also exploring new areas.

Count the many blessings in my life each day and even on a day where everything seems to be going wrong, recognise how fortunate I am.
---
Did I tell you, or did I tell you? She's amazing. And how incredibly stunning are her dolls?! If you want to get your own, or simply ogle hers follow Helen's journey in real time.
Instagram: @Isabellas_Secret_Attic
Pinterest: Isabellas Secret Attic
---