Emma is a Welsh artist inspired by the magic of nature, folklore and her daughter Seren, who her dolls are named after. Her dolls are imagined and brought to life in her home studio, where she puts love and care into every stitch. Most weeks she adds 3-5 dolls to her shop, and she takes, too, custom orders. Connect with her on Instagram or Facebook for previews, and to keep up to date with what she's making.
---
Let's start at your beginning. Tell us about your childhood.
I was blessed with a childhood that inspired me to be imaginative and creative. I grew up on a compound in Saudi Arabia with friends from all over the world. It was a safe space where we roamed free, building treehouses and mixing magic potions out of exotic flowers. Our school nurtured our creativity, dedicating more time than is usual for arts, music and outdoor play. I remember making books with stories and drawings of unicorns, talking flowers, fairies and animal spirits and taking part in plays where we would travel the world on magic carpets celebrating each other's cultures and customs.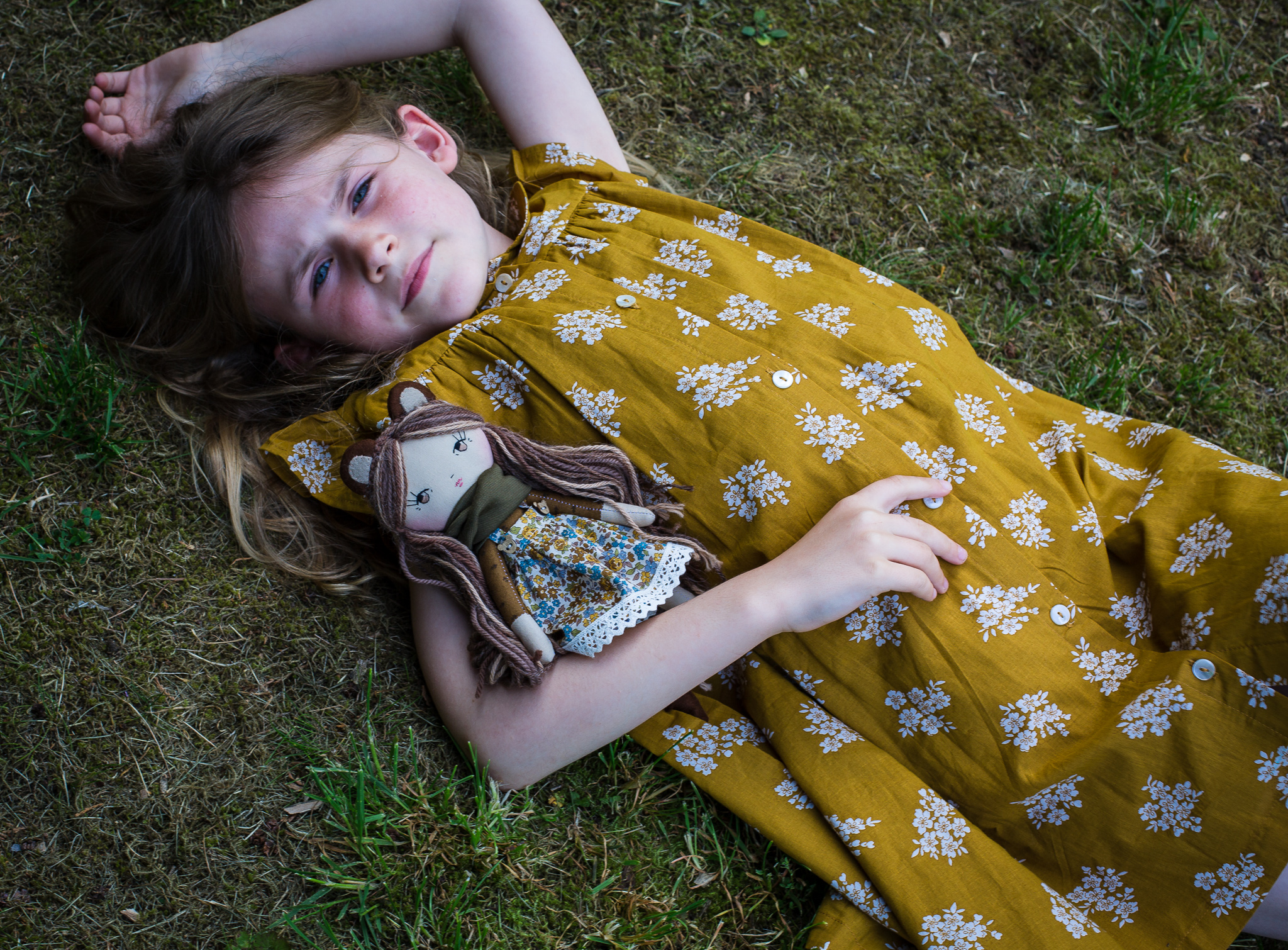 Few women on the compound worked, but instead there was a thriving community of artists and makers who would teach their skills and sell their wares at bazaars. My mum made animal toys and folk crafts. Outside the compound were beautiful mosques, old-world souks filled with more fabric and lace than you could ever imagine and one of the largest open-air sculpture galleries in the world. Driving around Jeddah you would come across everything from giant treasure chests and sunflowers, to modern art sculptures by Henry Moore and Joan Miro. As a child it was a magical place that filled you with wonder.
In contrast to this we spent long summers back home in Wales running wild with our cousins - playing in the sea, climbing mountains and building dens in the forest where we imagined we were kings and queens of other worlds. My favourite place to this day is a beautiful stream which weaves through a rocky gorge called Fairy Glen where mythical creatures live.
The women in my family are a huge inspiration and taught me to sew at a young age. I loved going to my grandmother's house. Her cupboards were full of beautiful vintage fabrics and lace and I could spend hours playing with her button tin. I was lucky to have lots of my clothes and toys made for me by various relatives. I loved how different the dolls each person made me were, each reflecting the personality of its maker. I shared a room with my brother Adrian when I was little. We would turn our beds into boats and fill them with all of our toys and sail away together on magical adventures.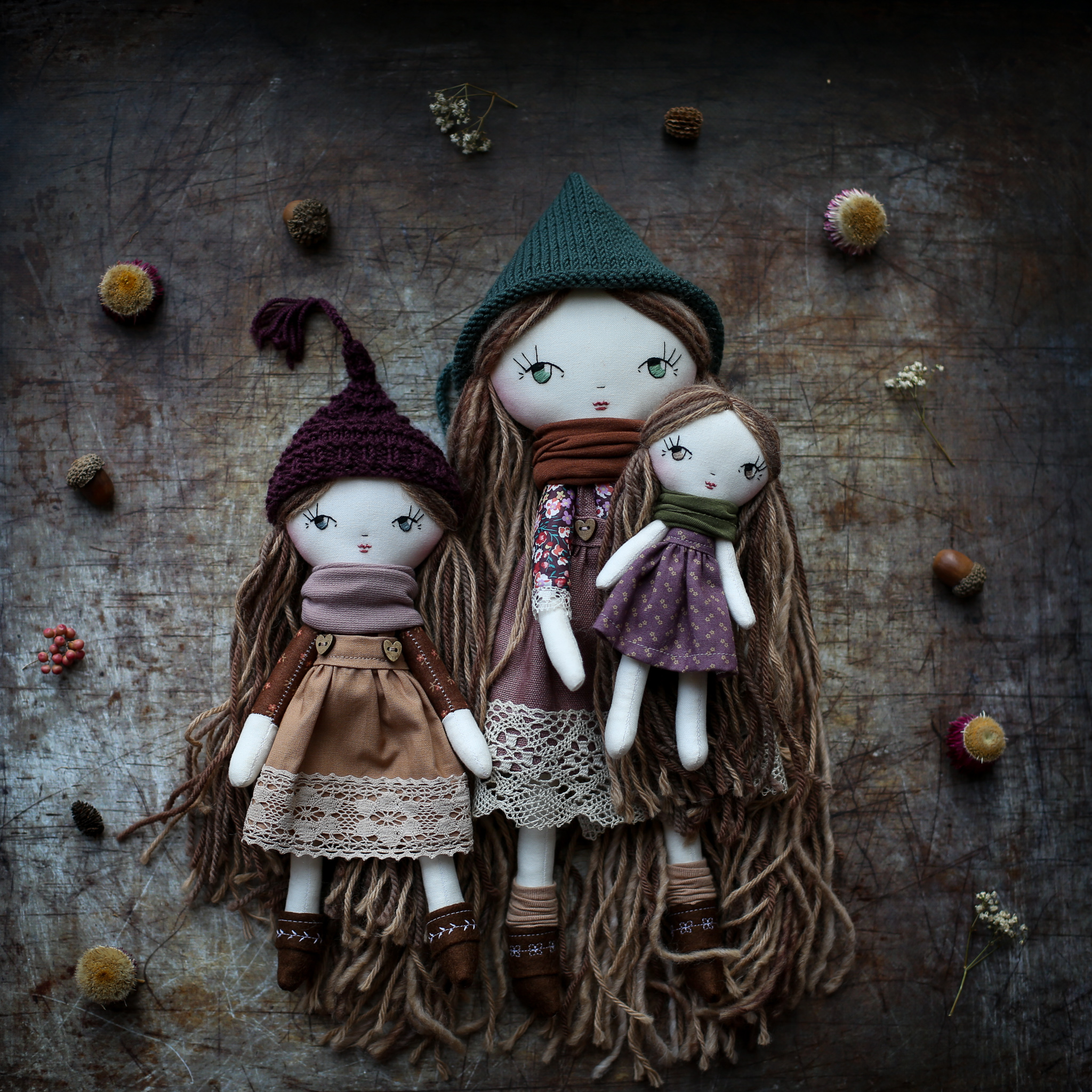 What prompted you to begin to make your beautiful dolls?
My love for making dolls goes back to my childhood when I used to make dolls and sock monsters as gifts for family and friends. I later studied fine art and dolls featured a lot in my work – I would paint them or make them from fabric, clay or wax.
After university I spent a long time working in public health designing campaigns and resources to inspire people to live healthily. I loved being able to channel my creativity into helping people, but when my daughter Seren was born the increasing demands of my job meant that I didn't have as much quality time with her as I wanted. It was a challenging time for me personally - my relationship with her father ended and I was living far from my family. The pressure I was being put under at work affected my physical and mental health so I knew things needed to change.
I first made one of the dolls I now sell for Seren as a birthday present. I try to give her a childhood which nurtures her imagination and inspires her to be creative like I was lucky enough to have, so I make as many of her toys as I can. I immediately fell in love with making dolls again and continued making them for her. When I saw people making a living from selling dolls on Etsy and Instagram I knew I wanted to do the same. The opportunity to take redundancy came up, so I used it to change our lives.
I am now lucky enough to spend my days making dolls and other creatures for children and grown-ups all over the world, while also having the time to give Seren the magical childhood I want her to have.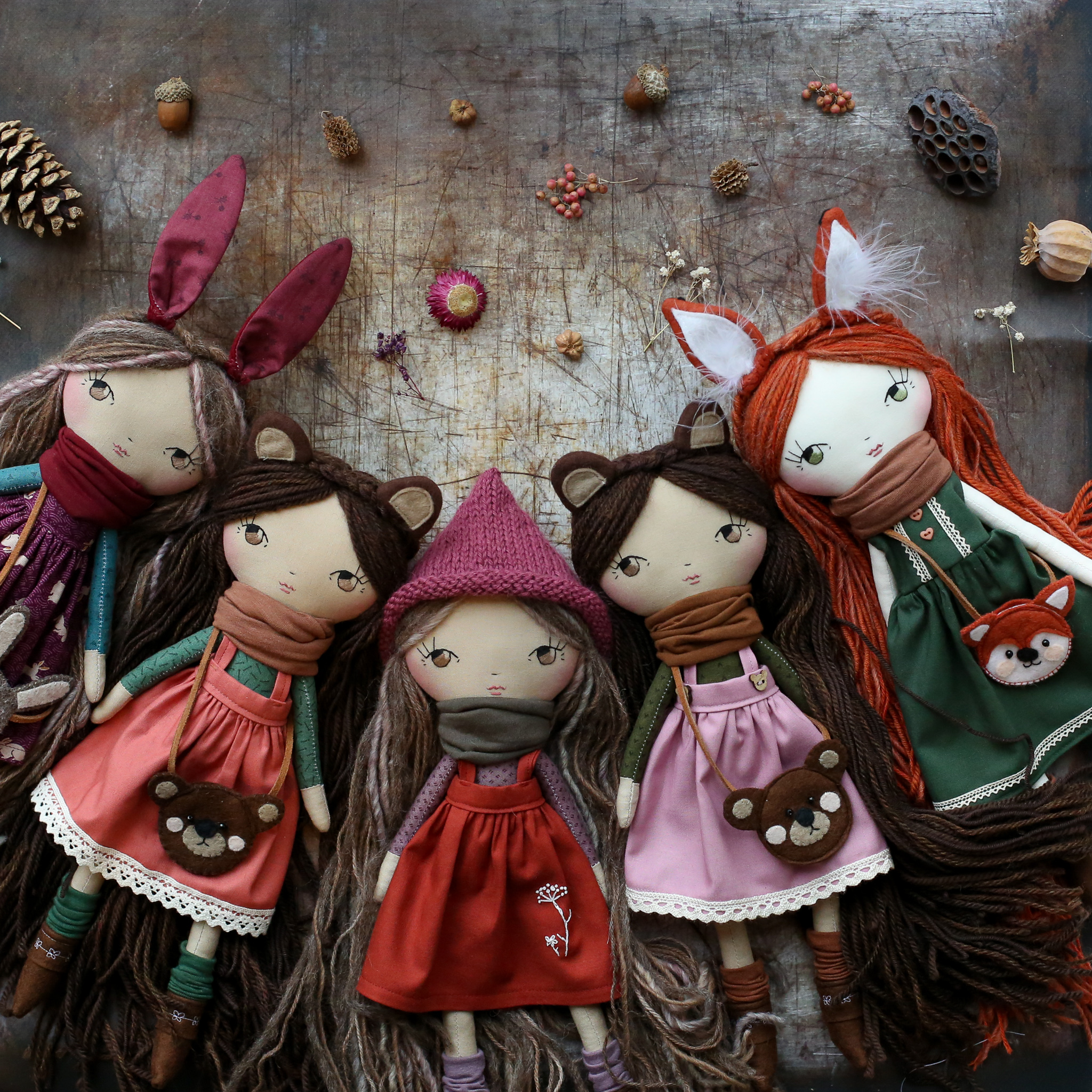 What was the first doll you ever made?
The first Seren Doll I made had glittery hair and stars in her eyes and was named Sophie by Seren. Our kitten loved her a little too much so she didn't make it to our new home! I'll always remember her as the doll that changed our lives though.
Do you have a favourite doll?
I don't think I could ever choose a favourite! I love how they all have their own individual personalities; how a stitch here or there can completely change their character. I adore making woodland dolls though – mushroom pixies and dolls dressed as woodland animals with little spirit animal friends. The forest is where I feel most at home and I feel the magic beneath the trees. I also love to let my work be influenced by the changing seasons.
*We see children getting their hands on technology at younger and younger ages these days, going on to use their imaginations less, play—in the traditional sense—less. What is the value, do you think, in continuing with the traditional forms of play, such as playing with dolls?
Oh my gosh, yes! Whilst I love that technology can connect you with kindred spirits and I am grateful that it enables me to sell my dolls all over the world and live the life I want to with Seren, as a parent it weighs heavy on my mind. I want Seren to grow up in a world where she is connected to nature – where she spends long days playing outside with the earth beneath her feet and with toys that have been handmade with love to inspire her to have adventures and dream of magical worlds where anything is possible. Childhood seems to be getting shorter and this time more precious. How we spend our time as children affects the rest of our lives. Learning to play, to imagine, to be creative – these are the things we need to take with us as adults to be able to escape from the hustle and bustle of modern life.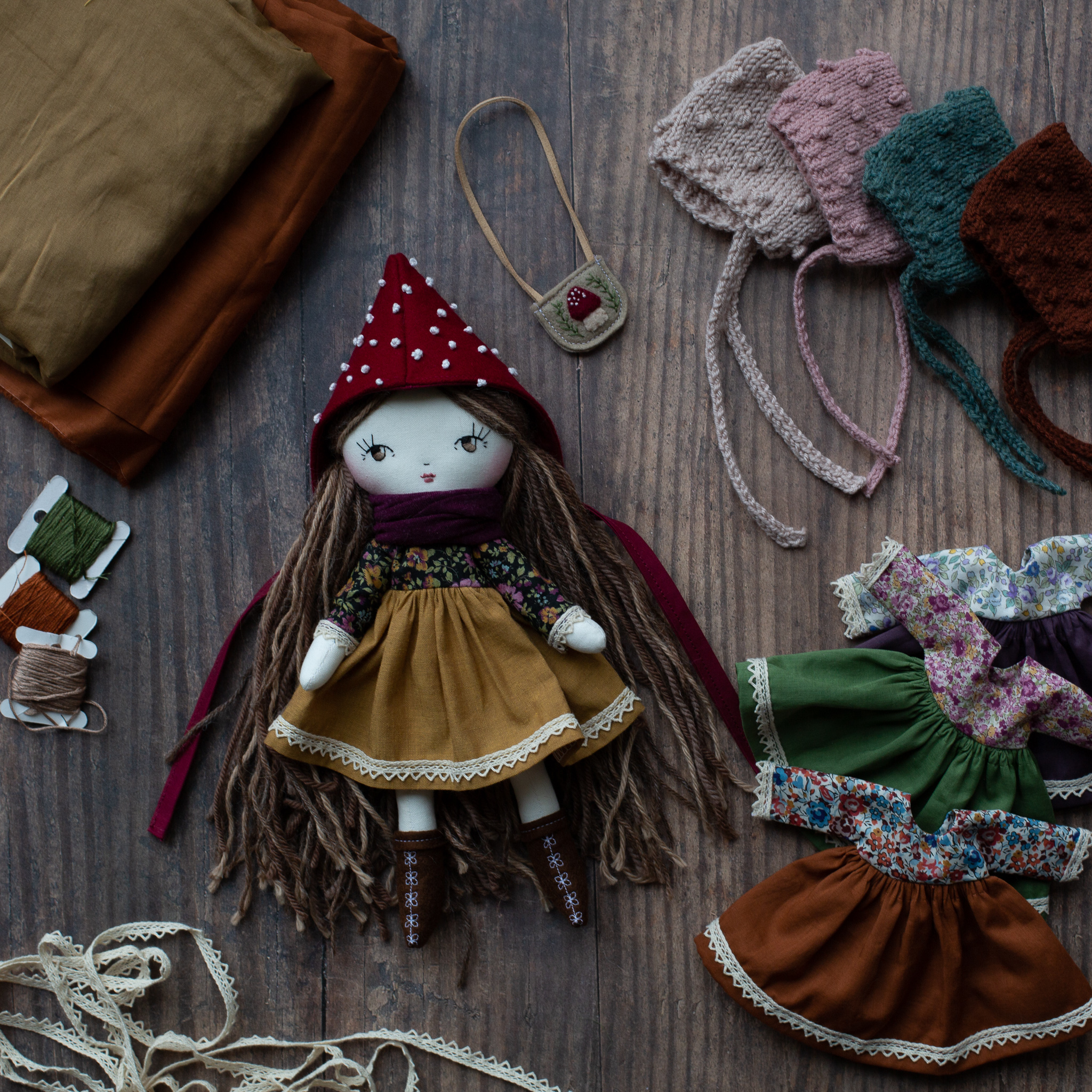 On the note of adults & play, would you consider yourself a proponent of play? If so, how do you think we can encourage adults to tap into their own inner child and loosen up enough to play, too?
I've always felt really connected to my inner child, and say I never want to "grow up". For me life isn't about having a big house and a fancy car, it's about being connected to nature, living every day like it was your last and having fun! Look at the world as if you were little again. Splash in the stream barefoot. Read your favourite childhood book. Roll really fast down a big hill! Look for fairy houses in the forest. Build a den in your living room and sleep in it! Play pooh sticks. Twirl around in your favourite dress. You might feel a little silly at first, but once you open up that gate to your imagination the world becomes magic and exciting again!
Can you share any books, films, pieces of fine art, people that you love or that inspire you?
I love His Dark Materials by Phillip Pullman. Parallel universes, pirates, armoured bears and witches – plus Lyra Belacqua is my favourite character of all time. I can't wait to share the magic with Seren!
I'm inspired by Braiding Sweetgrass by Robin Wall Kimmerer (a lifechanging book I have given as a gift many times) and Women Who Run With The Wolves by Clarissa Pinkola Estes (a book every woman should read).
My dolls take inspiration from treasured childhood books by Tove Jansson, Sibylie von Olfers, Elsa Beskow, Joan Aiken and Cicely Mary Barker. When I was little I watched The Last Unicorn and Return to Oz on repeat, and am fascinated with old fairy tales and folklore.
There are so many incredible artists in the world. Some of my favourites who I have on my walls are Vanja Vukelic (@merakilabbe on Instagram), Lucy Campbell (@lucy_campbell_art on Instagram) and Tijana Lukovic (@tijanadraws on Instagram).
Finally, if you had to choose three key components to a happy life, what would those be for you? What makes a life fulfilling, to you?
For me, happiness is simply my family, nature and the magic that comes from living a creative life.
We are living with my parents at the moment and it is such a special time seeing them playing with Seren. All living together under one roof makes my heart feel really full.
I feel a deep connection to the earth and nature. I'm happiest when I'm outside playing and going on adventures with Seren. We try to live a gentle, natural life – growing our own food, foraging and doing what we can to help wildlife.
When I'm not making dolls you can find me reading, writing, drawing, making, baking – I'm very lucky to be living the life I love.
---
Connect with Emma by visiting her website, Instagram or Facebook. And if you want a doll of your very own, you can custom order here.
x
---